Page 4 - Tennessee 811 Magazine 2021 Issue 2
P. 4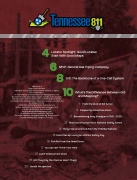 811MAGAZINES
4 Locator Spotlight: Good Locates Start With Good Maps
6 MVP: Natural Gas Piping Company
8 GIS: The Backbone of a One-Call System
2021 Issue 2
Roger Cox, Publisher
Individual subscriptions are available without charge in
To subscribe go to www.tennessee.811magazines.com
No material in this publication may be reproduced in any form without written consent. Editorial and advertising information contained in this publication are taken from sources considered to be reliable, but the
publication cannot guarantee their accuracy.
Letters, comments, and articles are encouraged and
can be submitted to: Tennessee811
Email: publisher@811magazines.com
or 1850 Elm Hill Pike, Nashville, TN 37210
The entire contents copyrighted 2021 by Tennessee811. Published May 2021. All rights reserved.
2 • Tennessee811
2021, Issue 2
20
13 Team Construction Wins National Safety Award 14 Things We've Learned From the PHMSA Website
15 Event Recap: Lexington Utilities Safety Day 16 Fish Rot From the Head Down
17 You Can Get There From Here 18 UUDP Enforcement Stats
19 Will They Pay the Claim or Won't They? Jacobi Perspective
10
1 From the desk of Bill Turner Frequently Asked Questions
7 Remembering Jerry Snodgrass (1961 - 2021)
the United States. What's the Difference Between GIS
5
and Mapping?