Page 24 - Tennessee 811 Magazine 2021 Issue 2
P. 24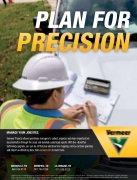 MANAGE YOUR JOBSITES.
Vermeer Projects allows operations managers to collect, organize and share important job documentation through the cloud and detailed customized reports. With the +BorePlan technology upgrade, you can do all that plus add bore line mapping, rod-by-rod bore planning and import as-drilled log data. Visit vermeer.com to learn more.
KNOXVILLE, TN
865.524.9174
MEMPHIS, TN
901.758.1928
LA VERGNE, TN
615.535.0222
22 • Tennessee811 2021, Issue 2
Equipment shown is for illustrative purposes only and may display optional or global-region speciic features, accessories or components. Please contact your local Vermeer dealer for more information on machine speciications. Vermeer Corporation reserves the right to make changes in product engineering, design and speciications; add improvements; or discontinue manufacturing or distribution at any time without notice or obligation. Vermer and the Vermeer logo are trademarks of Vermeer Manufacturing Company in the U.S. and/or other countries. © 2021 Vermeer Corporation. All Rights Reserved.